Every good organisation knows that its people are its biggest strength – and that building strong teams is vital to building a strong business. The hard part can be finding tools that will help contribute towards a high performing culture. One of our favourites? Microsoft Teams.
What is Microsoft Teams?
Microsoft Teams (normally called just Teams) is exactly what it sounds like – a hub for teamwork. Users can chat, collaborate on work, call each other (yes, local calling is available in NZ via local providers), hold virtual meetings, and use physical meeting rooms. It has a huge number of apps and integrations.
Teams usage has exploded, with over 13 million active daily users. It recently overtook Slack in its number of users, although the two generally have very different audiences (Slack is aimed at smaller businesses when compared with Teams, which thrives in organisations of all sizes).
Why Microsoft Teams?
At Deptive, we use Teams internally all day, every day. We chat, hold meetings, share ideas, and help each other solve problems. With our team distributed across the country, this helps create a feeling of inclusion and belonging, while breaking down the barrier of remote working.
It helps us build a high performing team, and it seems like it might do that for other organisations too, whether everyone's in one building or spread across the country. A Forrester report found that Teams cuts down a huge amount of time in admin and collaboration – saving customer-facing workers 45 minutes each week and information workers four hours each week. And while we should take the study with a grain of salt (it was commissioned by Microsoft, after all), that seems about right.
Whether you believe the numbers or not, we like it for more than just the time saved. At Deptive, we're all about creating great employee experiences, and the area where Teams has the biggest impact is people. It improves employee satisfaction, integration, and empowerment while reducing attrition rates – and just generally seems to build a more collaborative, effective team.
A new way of working
Teams can help you become a high performing organisation, however, there are some things to think about.
When deploying other Office 365 services, such as Exchange Online, there is (hopefully) little impact to the user when you switch over. Generally there's no user training needed and your people just keep using Outlook as they always have.
With Teams, however, you're looking at a new way of working. With a new app, new interface, and new experience, adoption and change management (ACM) becomes critical to the success of your Teams deployment.
In order to get the most out of Teams, and have your whole team communicating and collaborating more effectively, you need to ensure your people have bought into it. Consider which early adopters to test it out with, and consider how you'll communicate any changes with your people as early in the process as possible.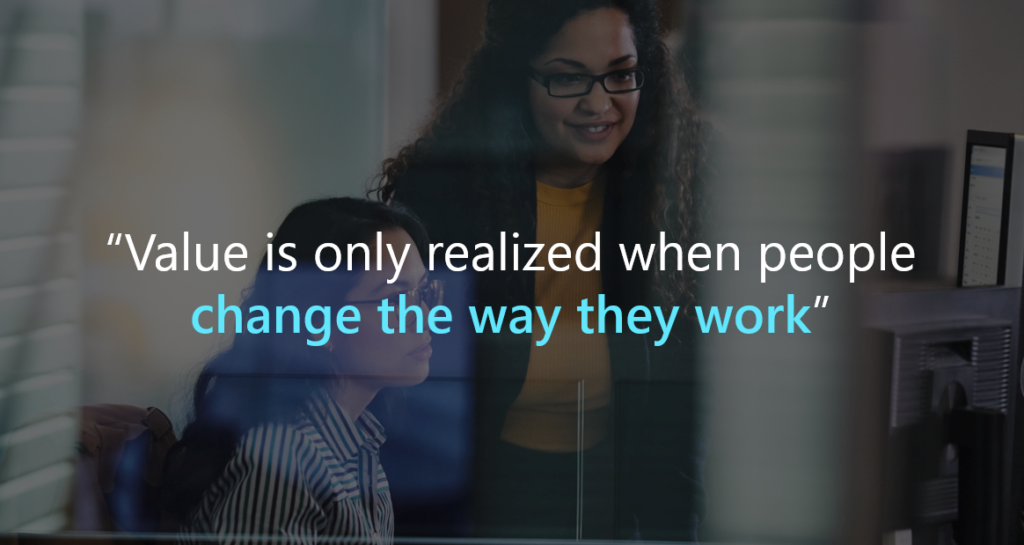 Getting started on your Microsoft Teams adoption
Although Teams can be a fantastic tool for teamwork, high performance, and efficiency, it's vital that you first understand what you're trying to achieve and how Teams would work in your organisation specifically.
Many of our customers are fairly cautious when it comes to Teams due to its governance – and that's fair enough. They ask – will there be an explosion of teams? Who manages the teams? What about retention, archiving, and lifecycle management? What about data security? Do we allow guests, such as suppliers, customers, and partners, to participate in our teams?
We generally recommend saving large-scale governance and security conversations for after you've experimented with Teams and determined whether it might be the right tool for your organisation. So where do you start?
Understand. Complete a Business Decision Maker Teamwork Assessment to create your vision for Teams. During this exercise, you'll define outcomes and use case scenario to determine measures of success to successfully adopt Teams.
Plan. Ensure you're prepared for continuous adoption and change management throughout the project and as part of day-to-day operations by establishing an implementation and communications plan.
Mark a start. Assemble your people, understand Teams, and identify early adopters.
Experiment. Enable your champions, make governance decisions, define and prioritise use-cases, on-board early adopters, get feedback, and on-board support.
Scale. Plan for success, launch awareness and training, establish reporting, and commence rollout.
Contact us today for a Business Decision Maker Teamwork Assessment.
We want to better understand how Kiwi organisations are adopting Teams and what challenges you're up against, so we would love you to fill in this quick survey. You'll go into the draw for a half-day Teamwork Assessment, in which we'll work with you to create a personalised Teamwork Success Solution Plan.