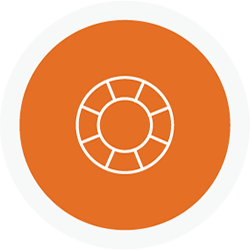 Support
Ultimately, partnering with Deptive improves your organisation's ability to respond to issues, resolve problems more quickly, fine tune your system, and make the most of your investment to capitalise on the latest technology.
Deptive is committed to forming deep partnerships. Not only do we design and implement stunning solutions to virtualise your workspace, we also provide ongoing support services, allowing you to use our expert advice, knowledge and troubleshooting as your specialist go-to team.
1 It's about ROI – implementing applications and desktop virtualisations is one thing, but ensuring your investment in technology continues to pay off through ongoing maintenance is another.
2 It's about expertise – filling any gaps in your IT department, and providing expert advice drawn from years of expertise.
3 It's about your team – freeing up your IT department to spend more time creating a future for the business instead of constantly dealing with problems and complaints.
So how can we help your business on an ongoing basis?
Visibility & Monitoring
When you've made a big investment in your technology, it's important to keep an eye on it. We've made it super easy for you to do just that through an enterprise class monitoring and alerting system. Deptive's Visibility Insights monitoring-as-a-service platform supports 180+ applications, from Citrix and VMware products to SQL and Dynamics to NetApp and Cisco, and helps you gain visibility to increase productivity.
Find out more in our three part blog series: Why is low visibility a problem, How to choose the right visibility tools, and How to gain total visibility
Managed Services
With a Deptive managed service you get a partner who takes charge. Whether it's responsibility for managing your entire desktop ecosystem, or accountability for managing your Citrix NetScaler, we're able to provide flexible managed services to meet your need. As a managed service customer, we'll keep you informed about any new technology innovations that will help your business, and generally look out for you.
---
On Demand Support
We understand that things don't always go to plan. Whether your "tech guy" is away on holiday, you're stuck with a challenging issue (we're probably seen it before), or your team is busy with project work, we're here to help. Just when you need!
Escalation of IT Help Desk Issues
No IT team can be experts in everything – so having specialists on hand should your team be unable to solve a help desk issue can provide confidence and get your team working productively as quickly as possible. Just think of us as an extension of your IT team.
Location
Deptive - Commercial Bay
11-19 Customs Street West St
Commercial Bay Tower, Level 17, Room 1715
Auckland 1010
We also have a virtual office in Wellington.
Contact Details

0800 000 141
Postal Address
PO Box 34797,
Birkenhead, Auckland 0746