By Jason McDougall, Modern Workplace Consultant, Deptive 
Microsoft Inspire 2022 was a relatively low-key and virtual affair this year.  
But the key theme became clear to me as I watched the keynotes and demos last week – Microsoft is intent on cementing its place as the leader in software that allows collaboration in the new era of work from anywhere. 
The pace of innovation in Microsoft Teams, which is increasing at the heart of collaboration for millions of workers, really is very impressive.  
Here are five highlights for me from Inspire 2022 that look set to make a big impact for New Zealand organisations working with Microsoft's product suite. 
Excel Live 
Excel spreadsheets are at the heart of most businesses, but real-time collaboration editing them in meetings has been a bit clunky to date. Typically, a team will have a shared version of an Excel workbook open on one screen and a Teams meeting running on another. Excel Live does away with the need for that by allowing you to edit workbooks directly in the Teams meeting. This has the potential to be a game-changer for real-time collaboration in the Excel environment. 
The beauty of it is that you don't even need to have Excel on your device. With the right permissions, you can log into the Excel workbook being shared and make edits with your team members watching on. Other features let you record videos to walk people through the changes you've made and collaborative annotations can be scribbled over the workbook
.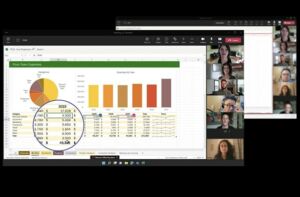 Real-time editing in a Teams meeting with Excel Live 
Teams Connect 
Using Channels in Teams is a great way to collaborate with colleagues on projects, share documents and use the chat function to comment on the status of the work. You can invite a guest into a Teams channel, such as a contractor who you have brought in to assist you. But Teams traditionally hasn't been set up to facilitate collaboration across multiple organisations in a shared channel. 
That is set to change with Teams Connect, a secure, compliant and governable place for partners, vendors and customers to collaborate together. Teams Connect consists of two parts, the chat function that is a mainstay of Teams, and shared channels which do away with the need to switch tenants depending on who you are working with. This is a long sought-after feature that will remove a barrier to collaboration for organisations working in the Teams environment. 
We work with companies that have an Australian parent, but the New Zealand division often runs on a separate Teams tenant. This will make collaboration with overseas colleagues and partners so much easier. 
Here's an example of how it could work: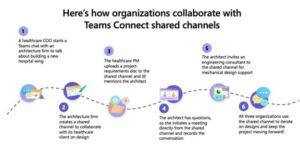 Source: Microsoft 
Viva Goals 
Setting individual and team goals is crucial to any organisation knowing where it is going and being able to help everyone track their progress towards achieving them. The problem is that a dedicated HR app is often required to do so, unless you resort to Word and Excel templates which can be clunky to use and update. 
Viva Goals is a service that will be available within the Microsoft Viva suite from August 1, 2022. It gives you a series of tools to set and track individual and group goals. It lets you establish metrics and KPIs that actually mean something.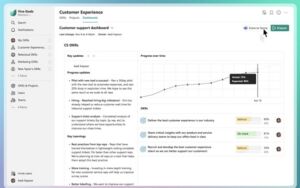 A dashboard to set and track goals 
Fully integrated into Teams, Viva Goals is also a convenient way to share progress towards goals and inspire colleagues with success stories or ask for help if a project is behind schedule. Viva Goals has huge potential for organisations that have struggled to find a hassle-free way to set and track goals, allowing them to spend less time on admin and more time pursuing the goals that have been set. 
Viva Engage 
For some time now we've recommended to customers who use Yammer, Microsoft's social network for enterprises, to pin the Yammer Communities app within Teams. This can act as a company intranet, letting people post updates and company use. Inspire saw the debut of Viva Engage, which replaces Yammer Communities. 
The standalone Yammer app, which is widely used across corporate New Zealand will stay unchanged. But Teams users of Yammer will gain access to a new user interface with features reminiscent of Instagram and Facebook. A Stories feature will encourage users to post image and video-based updates, which will appear in a carousel. 
"We hear from customers that they want more frictionless ways to share across an organization," Dan Holme, product lead for Viva Engage at Microsoft, explained at Inspire 2022.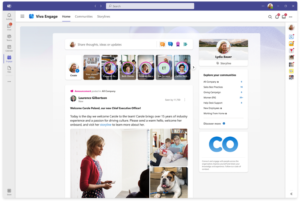 Bringing design elements from social networks into Viva Engage 
"Stories are a way to share experiences that people are very familiar with from their consumer lives." 
This stands to be much more engaging than a typical corporate intranet. When you are in the office sitting next to each other, it's those little bits of information which let you know what's going on within the organisation that are really useful. You can lose that in the hybrid work environment, But Viva Engage makes that all possible within the Teams environment. 
Aotearoa on the Azure map 
When we Kiwis hear New Zealand mentioned in a movie or TV show, our ears instantly prick up. So they did during the Inspire keynote when New Zealand's status as one of Microsoft's newest Azure data centre regions was highlighted. 
It is still some time before the data centre infrastructure currently under development is live and available to New Zealand organisations. But at Deptive, we are pretty excited about what a local Azure region will mean for our customers. Many of them would rather host all of their data and applications locally. The lower latency can mean improved performance, particularly for real-time applications and many government, iwi and finance industry clients, in particular, appreciate the ability to keep data stored within New Zealand borders. 
The likes of Fonterra, Spark, BNZ and ACC have already signed up to become local Azure data centre region customers. 
We have been getting up to speed with what a local Azure region will mean in practical terms for customers, so we are ready to advise them on the best pathway to Azure when the data centres are open for business.