Uncertain, unprecedented, unpredictable – these are the kind of phrases which we have all grown used to hearing. In all areas of life, we have had to adapt to a new normal – whether that is how we shop, how we exercise, how we talk to our loved ones. But also, crucially for organisations trying to stay afloat and keep the business coming in, how we work has required a good deal of re-thinking.
With lockdowns testing organisations' abilities to function efficiently outside of the physical office, it's important to acknowledge the role of solutions like Microsoft Teams to improve collaboration for remote teams. For employees to be able to work efficiently, it takes more than good Wi-Fi. You need to offer the right employee experience.
Let's look at the role of collaboration in the modern workplace, focusing on how Microsoft Teams helps people work better together by providing seamless employee experiences.
Remote working put to the test
Remote working has become more and more popular over the past few years. But many organisations have only flirted with it in small doses – an exception to the rule in certain conditions, rather than being rolled out for everyone at all times.
How many organisations really put remote working to the test? Many people were comfortable with the concept, but not necessarily the practicalities of remote working on a large, organisation-wide scale. But the current situation we all now find ourselves in due to the COVID-19 pandemic has changed this.
The sudden nature of how lockdowns were introduced meant that organisations had little time to prepare for these changes. But now, as lockdown restrictions are eased, there's an opportunity to assess the state of remote working technology at your organisation and to look at investing in long-term IT solutions to improve how your employees collaborate and communicate in general.
So, what needs to be done to optimise collaboration in the modern workplace? For many organisations around the world – including us – the answer is the Microsoft Teams app. Let's outline some of its core benefits, and then we'll even give you sneak peek behind the scenes to see how we use Microsoft Teams at Deptive.
Get what you need with Microsoft Teams
Microsoft Teams is Microsoft's all-in-one modern collaboration app. As part of the Microsoft 365 and Office 365 packages, Microsoft Teams is one of many productivity tools available in the suite. Teams provides all the tools you need to collaborate online, as well as crucial integration between all the different apps within the wider package.
The Microsoft Teams app provides:
Feature-packed and seamless video conferencing
Quick and easy instant messaging
File sharing
Real-time document editing
Channels and groups to organise your projects and teams
On top of this, Microsoft Teams embraces a whole host of fun features, which are popular with employees. Reactions, such as likes, stickers, and emojis, don't just liven the mood and help your colleagues add a personal touch, it's simply how people want to communicate these days. Reactions are an important way to build and maintain a positive company culture, especially in lockdown.
Who doesn't appreciate a Like on a comment?
A nice gesture, sure, but also a great way to convey some useful information. A like can mean 'seen', 'received', 'understood', 'yes, sure' but also, depending on the context, it can stand in for a lot of body language that goes missing in a virtual setting.
Microsoft has also added meeting backgrounds recently. Now you can spice up your Friday morning meeting. It can get people talking, smiling even – just what we all need right now.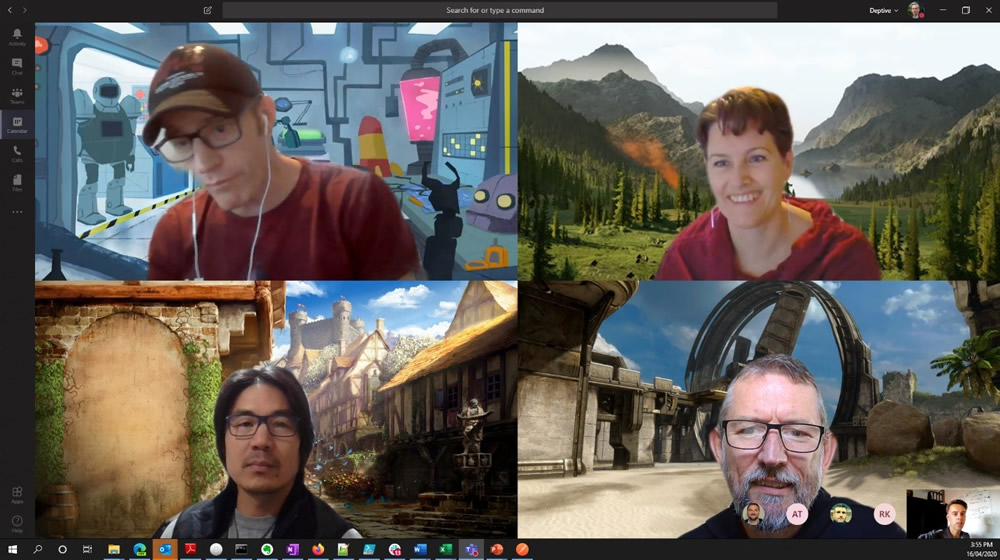 In short, everything you need. It works as a central hub for the above, i.e. all things communication and collaboration.
Deliver better experiences with Microsoft Teams
As highlighted above, having great Wi-Fi isn't enough for effective remote working. But, also, modern collaboration is more than just having the right tools. They must be deployed the right way. Employee experience is crucial.
As part of the whole Microsoft 365 package, Teams makes this easy. Zoom has proven to be a popular option for many people in lockdown to reach out to loved ones and carry out meetings. Slack has long been a popular tool for instant messaging in the workplace. Dropbox is used by many for filesharing. But when used together these create a disjointed user experience for your employees and risk app fatigue.
(Yes, there is such a thing as app fatigue; you've probably experienced it too – for instance when you're struggling to find a document or an email and you can't remember where it's saved: which app, content platform, or email client?)
Whereas Microsoft Teams provides a seamless experience where everything – and everyone – is accessible in one place.
We are big fans of Microsoft Teams at Deptive. We love how it's possible to extend Teams to integrate with existing systems – adding that extra functionality that powers your organisation and brings everything you need into one place. For instance, our customer's critical monitoring alerts are automatically posted into Teams, using an integration with Opsgenie.
What's more, we have set up a "Surviving COVID-19" channel to help us reach out and support each other. Currently, it's mainly full of Disney+ and Netflix TV show recommendations and a few ongoing family photo competitions like who has best slippers!
The next phase is investigating integrations with other systems using webhooks and adaptive cards to bring core workflows into Teams.
Need collaboration with a great experience?
In these uncertain times, there's no room for bad collaboration. You need to help your teams work better together. The best way to do this is with the kind of seamless employee experiences that Microsoft Teams provides.
We're all about efficient and effective collaboration in the modern workplace – and empowering the people who make this possible. Our expert techs are experienced in working with all sorts of businesses in New Zealand and further afield. We can work with you to get the most from Microsoft Teams at your organisation and drive better outcomes for you and your organisation.
To find out more on our Digital Workplace Page about how to improve collaboration in the modern workplace at your organisation with the Microsoft Teams app, get in contact with the team at Deptive today.