Strategy + Solutions + Support
We strongly believe that the key to successful project delivery is starting properly, and using a strong methodology.
While we can come on board at any point, the best results are achieved when Deptive wraps strategy and support around the solutions provided, following the above methodology from start to finish.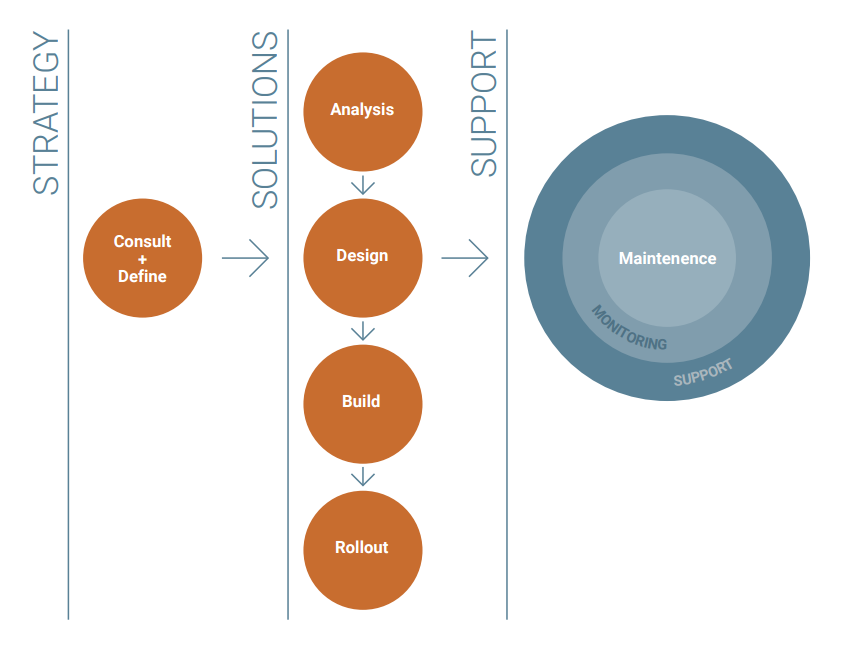 We focus strongly on analysis at the beginning of each project because to develop the right solution for you, we need to understand your business, your applications, your devices, your people, and how your people work. This is vital for achieving the result that you want. We like to use a range of discovery tools including Stratusphere FIT from Liquidware Labs, and Citrix AppDNA, to automate application compatibility testing against the target Operating System.
Our design templates are the result of decades of combined experiences. Whenever possible, we will use our design templates so we are not "re-inventing the wheel" for you. By using our design templates and conducting design workshops with your team, we will provide a solution design tailored to your requirements.
Once the design is approved, we work closely with your team to build the solution. Our engineers know the small details that turn an average user experience into an excellent user experience. It's at this point that we document the build of the solution and create an operations manual so your IT staff know exactly what we have built and how to administer it.
Along the way, we'll focus on communication with your team. Deptive's founder Jason and other senior managers are always just a phone call away if you have any questions along the way.
Congrats, you've now reaping the productivity and flexibility benefits of a Deptive solution! But don't take your eye off the ball; your focus now needs to be on future proofing, not trouble shooting. Maintenance, support, and monitoring from Deptive will ensure the user experience does not degrade, that security vulnerabilities are closed, and that you continue to make the most of your investment.
By keeping an eye on the bigger picture, following strong methodology and constantly communicating, we're able to revolutionise the way Kiwi business works, with little hassle or risk at your end!
Location
Deptive - Commercial Bay
11-19 Customs Street West St
Commercial Bay Tower, Level 17, Room 1715
Auckland 1010
We also have a virtual office in Wellington.
Contact Details

0800 000 141
Postal Address
PO Box 34797,
Birkenhead, Auckland 0746