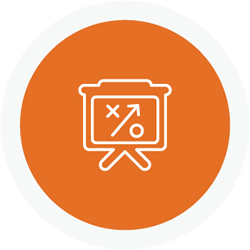 Strategy
Ultimately, partnering with Deptive enables you to do what you do best—think and lead IT strategy in your own organisation.
End user computing can be transformational, if it is approached on a strategic level rather than simply jumped at because of current trends. Taking your business objectives into account, we'll help you develop an end user computing strategy, and assess which solutions will strategically help the business achieve those goals.
1 It's about trust – partnering with you so you can utilise our team for expert advice, implementation and support as your go-to specialists. Ultimately, partnering with Deptive enables you to do what you do best—think and lead IT strategy in your own organisation.
2 It's about goals – designing IT solutions that will help you achieve your business objectives and positively impact on the business.
3 It's about productivity – taking a strategic approach to technology will increase productivity and prevent the time and money costs that come with unwise technology choices.
So what are the considerations in a strategic assessment of the organisation?
Digital Workspace
Operating in a digital workspace means freedom for your staff to be efficient and productive—whether in the office, in a café, at home, or overseas. With digital workspaces becoming more widely used, there are a range of approaches to choose from. We'll help you determine which approach is right for your business.
Cloud App & Desktop Delivery
Businesses of all sizes are rapidly taking to the cloud. Scale, agility, and availability are just a few of the ways that the cloud enables IT to focus on what's important – advancing the business through technology. Deptive will work with you to CYODC (Choose Your Own Data Centre) and determine exactly how you can leverage cloud to get the best results.
---
Mobility Solutions
Central to Deptive's strategy is the removal of downtime. With a mobile workforce, your team no longer have to wait until they get into the office to close a deal or capture that inspiration. Here at Deptive, we're championing the shift from device-centric IT to people-centric IT, and enabling you to get the best from your people, all the time.
BYOD
All organisations are different. For some, a BYOD (Bring Your Own Device) policy is appealing, with no device procurement, deployment, or management. Yet for others, the lack of control, security concerns, and support challenges make BYOD inappropriate for the organisation. But how will you know if BYOD is right for you? Deptive can help.
Location
Deptive - Commercial Bay
11-19 Customs Street West St
Commercial Bay Tower, Level 17, Room 1715
Auckland 1010
We also have a virtual office in Wellington.
Contact Details

0800 000 141
Postal Address
PO Box 34797,
Birkenhead, Auckland 0746